Hello from Kaetzchen Cattery!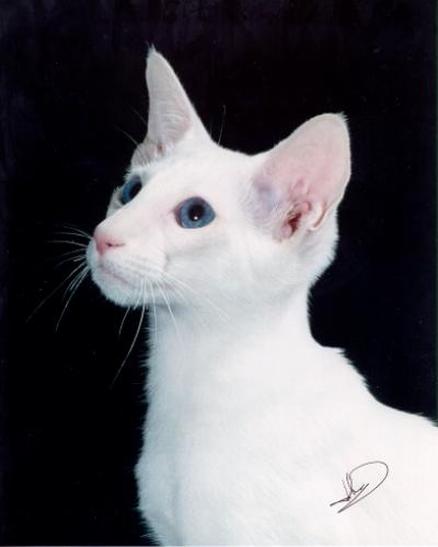 Thanks for visiting our website! We are Kaetzchen Cattery, which is German for "little cat." We have been breeding Oriental Shorthairs since 1994, and couldn't imagine loving any other kind of feline! Are you are searching for a loving companion who is intelligent and elegant? Meet the Oriental . . . she will change your world, and your perspective of cats forever!
---
Our Cats
Our bloodlines lines originate from Germany, where we purchased our first and second queen. Since that time, we have strived to maintain the health and quality of our lines. We specialize in a few colors, blue-eyed white, ebony, chestnut, and recently, cinnamon. Generally, we stick to solid and pointed patterns. Most importantly, we raise our kittens in a loving family environment, so that they are well adjusted to living with and meeting new people.

---
Oriental Type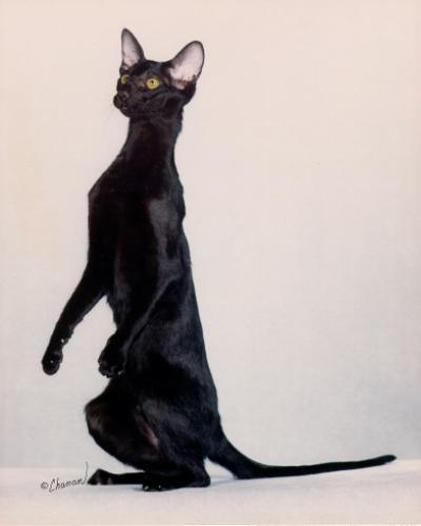 If you are unfamiliar with this breed, let us acquaint you! Oriental Shorthairs have lithe, sleek long bodies with short fur. Their heads are triangular, accentuated by large ears and almond shaped eyes. They are excellent at jumping, and all sorts of other acrobatics. They are intelligent cats who love to engage their master's attention by talking, following, and seeking physical contact. Their love for their families is unmistakable, and the bonds they form are forever.

---